We are located in Brunswick County, North Carolina
...the southeastern coast of NC


Welcome to the home of the Brunswick Search and Rescue Team. We are a nonprofit, volunteer search team utilizing canines to find lost or missing persons. We respond to call out from local, state and national law enforcement agencies, emergency managers, state emergency services departments and other federal agencies.

Contact us for more information on requesting our services by calling: (910) 367-3330

Contact us at our team email for non-emergency information:

EMAIL Brunswick Search and Rescue

Click Here for the Application Process, Meeting Dates, Training information or general membership questions:

Click HERE
More information on our application process is found HERE

---



​ Our Supporters

BSAR is so grateful for the generous donation of our local governments, citizens and organizations. We could not possibly operate without your support our 501 C3 organization. Thank you so much.

Please support those folks in our community who support our volunteers:

Brunswick County Board of Commissioners Rivermist Girls of Southport International Paper Company
Carillion Assisted Living in Southport In Memory of Denise Hewett of Myrtle Beach, SC Brunswick Electric Company Atlantic Telephone Company Ocean Isle Beach Commissioners Bell & Bell Motors, Little River, SC
Jimmy's Marine in Ocean Isle AKC Reunite Program: AKC CARS Styles by the Sea in Calabash
NC Dept of Insurance: Fire and Rescue Grants Department Fuzzy Peach in Oak Island Jennifer's Hair Salon in Southport
Milligan Power & Lawn Motors Cheryl's Hair Design Fantasy Nails in Shallotte Friendly Nails in Calabash
Brooke Bajak Salaon in Southport Nail and Spa in Calabash Bill & Cathy White, Boiling Spring Lakes, NC A Cutting Image in Little River, SC Mr./Mrs. Donald Wescott, Supply

__________________________________________________________________________________________________________

September 10, 2016: Antique Roadshow sponsored by Carillon Assisted Living in Southport, with BSAR as the designated charity for the proceeds. We were ecstatic to receive over $2,300 from all the hard work put in on this fundraiser. Big thanks to our fundraising team of Joan, Sandy and Jim who pulled this one off with bells on!

Thank you to all the staff of Carillon and BSAR members who sold tickets. And especially to the appraisers by Jack Simpson. The food was wonderful (thank you Pam). Ms. King... you are awesome! THANK YOU CARILLON and all the STAFF for welcoming us! WOW, what a great day!!!

---

BSAR Members and Canines at work.....


BSAR members train regularly in many disciplines in addition to K9 training.



K9 Mollie, an English Springer Spaniel, serves with BSAR
as a Public Relations canine.

She and her owner, Norma Jean, help to represent BSAR at presentations,
community events, and othe activities.

Thank you, Mollie and Norma Jean for continuing your great support of BSAR!

---

PROJECT LIFESAVER

Especially for Brunswick County, NC, Citizens:

​If you are the caregiver of a dementia or Alzheimer's patient, consider protecting their safety with a bracelet from the Brunswick County Sheriff Office through their Project Lifesaver Program. For more information, contact the deputies listed and learn more about the free program at the link below.

http://brunswicksheriff.com/publicinterest/project-lifesaver

or you can contact our Crime Prevention Unit and speak to

SGT. Bert Reaves at (910) 253-2745 or Sgt. T.K. Nowell at (910) 253-2708. I will also be glad to pass along your information.

The Brunswick County Sheriff's Office offers a FREE service for county residents who are caring for loved ones with Alzheimer's disease, autism, or other conditions that make them likely to wander away from caregivers, or who have difficulties communicating with rescuers. Project Lifesaver bracelets can help rescuers find a loved one who has wandered away.

To participate in the Project Lifesaver program, the prospective client must:

* Live within Brunswick County

* Be diagnosed by a certified physician as having Alzheimer's disease, other dementia disorders, autism, Down's syndrome, or similar disorders.

* Be known to wander away from caregiver.

Brunswick County Sheriff's Office Project Lifesaver team will give participants a plastic bracelet containing a waterproof radio transmitter. Each participant's transmitter is assigned a radio frequency that is unique both to them and to their geographical area of the county. The bracelets may be worn on the client's wrist or ankle.

---

---
Training to Find Lost or Missing Persons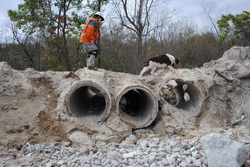 BSAR team members train to find missing people, drowned victims, or victims of disasters using the disciplines of Wilderness Air Scent, Human Remains Detection (land and water), First Responder Dogs, and Trailing.

Left: K9 Beau trains on rubble.

Below: Some BSAR members and canines, past and present.
---



Updated November 19, 2016
9-11 Never Forget.