BSAR K9s and handlers at a recent training...2012


Located in Brunswick County, North Carolina

Welcome to the home of the Brunswick Search and Rescue Team. We are a nonprofit, volunteer search team utilizing canines to find lost or missing persons. We respond to callout from local, state and national law enforcement agencies, emergency managers, state emergency services departments and other federal agencies.

Contact us for more information on requesting our services by calling: (910) 264-8752

Contact us at our team email for non-emergency information:

EMAIL brunswicksearchandrescue@gmail.com

Click Here for News, Announcements, Meeting Dates, Training information:

Click HERE
Training to Find Lost or Missing Persons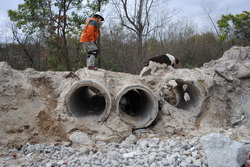 BSAR team members train to find missing people, drowned victims, or victims of disasters using the disciplines of Wilderness Air Scent, Human Remains Detection (land and water), First Responder Dogs, and Trailing.

Left: K9 Beau trains on rubble.

Below: Some BSAR members and canines, past and present.
---
BSAR members celebrate a red-letter day on December 30, 2012. Two new dogs certified, one dog retired and three dogs passing their Canine Good Citizen tests. Whew, we got it done!!
Myrtle Beach Apartment Fire Scene, South Carolina, March 2013...Decon the K9s after a long days work. Jim & Christy with K9 Gypsy and Angela and Sylvain with K9 Joe.




++++++++++++++++++++++++++++++++++++++++++++++++++++

Contact Us:

We would love to hear from you...drop us a line below:




Updated January 2014